Here's a perfect no-bake back-to-school snack/dessert, the ingredients for which you most likely already have in your kitchen; especially if you have kiddos.
I bought a huge box of toasted whole grain oats cereal (basically Cheerios) from Trader Joe's a few weeks ago, with Lily in mind. I place a handful on her high chair tray every morning, and enjoy watching her rake palmfuls towards her mouth… though most end up on the floor. She hasn't yet mastered her pincer grasp, but when she starts working on it, the O's will be perfect for practicing.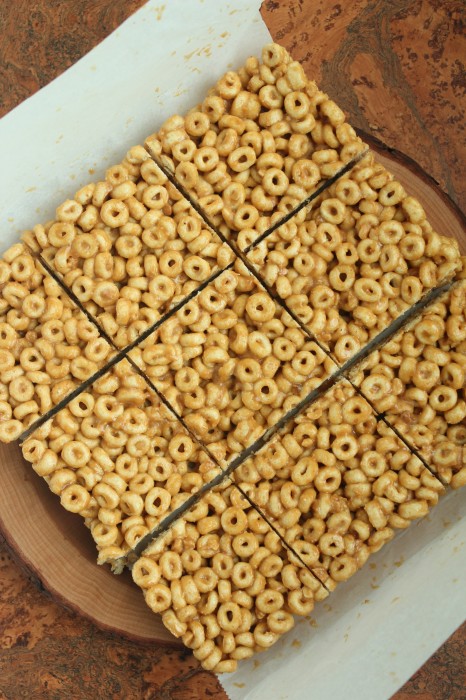 Neither John nor I are big cold cereal eaters, and since Lily is going through the box very slowly, I decided to incorporate the O's into a recipe.
Although these cereal bars are definitely kid-friendly, they're not for tots under the age of one. If babies under 12 months of age eat honey, they could develop Botulism, and it is recommended to hold off on all nut products in order to stave off possible allergies.
Sorry Lil'… these are for Mommy and Daddy for the time being ;).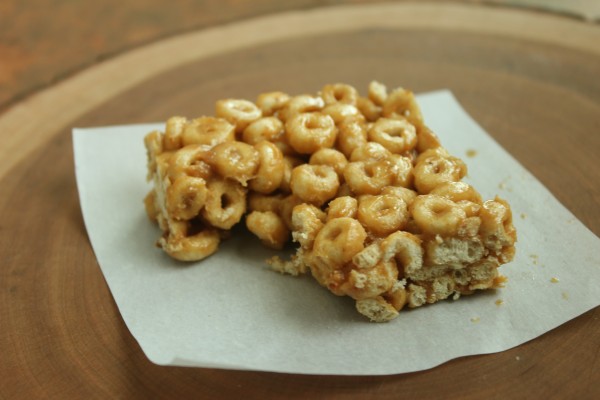 3 Ingredient Peanut Butter & Honey Cereal Bars
Prep Time: 10 minutes
Cook Time: 3 minutes
Keywords: simmer breakfast snack dessert peanut butter bars
Ingredients (9 bars)
1/2 cup crunchy natural peanut butter, well-stirred
1/2 cup honey
3 cups toasted whole grain oats cereal (I used Trader Joe's O's)
Instructions
Line an 8 x 8 inch square pan with parchment.
Combine peanut butter & honey in a large saucepan and set over medium heat. Heat until mixture just starts to simmer, about 2-3 minutes, stirring. Remove from heat and stir until mixture is well-combined.
Stir in cereal until evenly coated. Pour mixture into prepared pan, cover with parchment, and press firmly. Let sit for 1 hour. Cut into bars.